Instant Flash site builder at your fingertips
Show.kit 2.11
Show.kit - a Flash site builder from ELTIMA Software - has rapidly grown into a unique multi-template multimedia authoring tool. Today it gives you a simple interface to build astonishing Flash and HTML websites, Flash slide-shows, Flash Intros and Flash preloaders.
Show.kit demonstrates a progressive approach to let you easily build template-based Flash websites and other web output. Not only can you choose any professionally-made template for your Flash website or Flash slide-show, but also easily customize it with just a few clicks if you want! Text processor will let you insert images, create tables, choose fonts, formatting and much more. With the image editor of our Flash site builder you can edit images and apply effects such as fading, blur etc. Add MP3 music and sounds to your Flash site, intro or slide-show - and you have a new inimitable Flash work.
Images, sounds, logos, as well as amazing complete solutions and cool plug-ins are available for FREE download for all registered users of Show.kit in the online gallery. With the friendliness of Show.kit's interface you'll shortly master all Flash builder's functions. You can take a single template and - as you customize fonts, apply other color schemes, change images, add different sounds, etc. - you come up with several of your own custom templates of Flash websites, intros or Flash slide-shows!
But in fact, if you take a look at Show.kit templates, you'll see that no customization is needed. This Flash builder will produce professionally looking business presentation or Flash website with a single-click publish! Finally, automatic FTP upload to your server will let you see your complete Flash website online sooner that you can imagine!
Show.kit Screenshot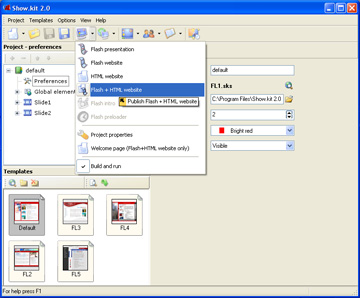 With an easiness of a single click create professional, ready-for-upload Flash websites, Flash presentations, Flash Intros, HTML websites and more!
What's new:
Fixed: Some minor issues
Improved: Application's stability under Windows XP
Templates library:
Full features list:
Build professional Flash/HTML websites, Flash presentations, Flash Intros and preloaders with one product!

Unique project navigation and customization with easy-to-understand and easy-to-navigate project tree

Multiple fully customizable templates for all types of projects, online templates gallery with endless downloads

Additional downloads of images, sounds, logos, etc. in unique Show.kit Extras area

Full MP3 sound support in all projects (Flash/HTML websites, Flash presentations, Flash Intros, Flash preloaders). Add your own music and sounds, or select any from the gallery - and enrich your website with music.

Unicode support: create websites and presentations in your native language (except for right-to-left languages)

Keep your projects organized with a separate Show.kit file format

Full in-slide sound control: let your visitors adjust sound settings with ease

Multiple color schemes to select from in your project: save your time and select one of professionally created color schemes that will make your website stand out

Handy image editor: edit images and apply various effects like fading, blur, mosaic and more

Professional text processor: insert images, create tables, customize formatting, select any font, search and replace, and more

Live preview with unique Flash movie controls

Automatic FTP upload with multiple FTP sessions

Great FREE additional plugins like: CD Burner, Sound Editor, etc.

Multilingual interface

Detailed manual

Extensive support
Show.kit compatibility:
Windows 98

Windows Me

Windows NT 3.x

Windows NT 4.x

Windows XP x32

Windows 2000
If you are still in doubt, download your FREE demo of Show.kit to realize its Flash creation potential.

Download FREE Show.kit demo
Order your full-featured version of Show.kit now. You will receive your registration key shortly to start building Flash sites, HTML websites, Flash slide-shows, along with Flash intros and preloaders! As a registered customer of Show.kit - one-click Flash site builder - you'll also receive access to Show.kit Extras area with tons of clipart, sounds downloads and plugins - for FREE.

Order Show.kit 2.11, one-click Flash Site Builder